---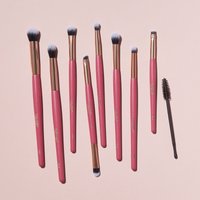 Colorbox Professional Eye Brush Set
BeautyMarked Ghana
8 Brushes + 2 Accessories
If you are looking for a versatile set that can create both simple and detailed eye looks, then look no further sis, the CB Professional Eye brush Set is exactly what you need.
CB 7 – *NEW* Large Eyeshadow Brush
Whether you're a beginner that struggles with eyeshadow blending or a Pro who loves creating simple glam eye looks - this brush will certainly be your favourite!
CB 8 -  Crease Blending Brush
Expert blending made super easy! This soft tapered brush will perfectly blend eyeshadows along your crease & ensure there are no harsh lines where any two colours meet
CB 9 –Fluffy Shadow Brush
This is your must-have fluffy flat eyeshadow brush, as it always offers great control whilst packing and blending eyeshadows across the lid beautifully
CB 10 – Duo Brush: Flat Shadow & Angled Brush
Our 1st brush ever is STILL a top fav! This multipurpose tool contains a dense oval brush on one side and flat angled brush on the other!
CB 11 –Small Fluffy Eye Brush
The shape of this petite tool & its soft hairs makes it ideal for adding definition whilst blending eyeshadows in the outer corner of your lids
CB 12 – *NEW* Flat Blending Eye Brush
Uniquely crafted with longer finer hairs and a flat base to smoothly create the softest of blends where any 2 of your eyeshadow colours meet
CB 13 - *NEW* Precision Crease Brush
Precise placement is this brush's favourite thing to do! The dense pointed brush hairs definitely allow you to easily concentrate eyeshadow colours anywhere you desire
CB 14 – *NEW* Mini Flat Liner Brush
Every artist needs a microfine brush for detailed eye art! So, whether its lining the under eyes or creating precise eye art, this brush has got your fully covered
…Plus Black Brush Guards, Spoolie & Ziplock Bag
------------------------------------------------