---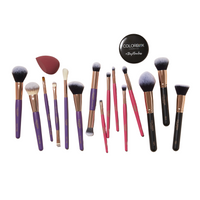 Colorbox Pro MUA Set
BeautyMarked Ghana
15 Brushes + 4 Accessories
The special set is hand-picked and verified by award-winning makeup artistes, so whether you're a veteran with accolades, a fresh graduate or a current beauty student, this set will make sure you look like the professional you are!

CB 1 - Flat Top Foundation Brush 
Your #1 High Quality Foundation Brush that applies liquids and creams both quickly and flawlessly with minimal effort!
CB 3 – Deluxe Buffing Brush  
Create the ultimate natural airbrushed 'second skin' finish with this multi-purpose face brush, that loves liquids, creams and powders all equally
CB 4 – Large Powder Brush  
This super soft brush gives you an undeniable feel of pure luxury, whilst evenly applying and blending all powders across your skin with ease
CB 8 - Crease Blending Brush
Expert blending made super easy! This soft tapered brush will perfectly blend eyeshadows along your crease & ensure there are no harsh lines where any two colours meet
CB 9 - Fluffy Shadow Brush
This is your must-have fluffy flat eyeshadow brush, as it always offers great control whilst packing and blending eyeshadows across the lid beautifully
CB 12 – *NEW* Flat Blending Eye Brush
Uniquely crafted with longer finer hairs and a flat base to smoothly create the softest of blends where any 2 of your eyeshadow colours meet
CB 13 - *NEW* Precision Crease Brush
Precise placement is this brush's favourite thing to do! The dense pointed brush hairs definitely allow you to easily concentrate eyeshadow colours anywhere you desire
CB 14 – *NEW* Mini Flat Liner Brush
Every artist needs a microfine brush for detailed eye art! So, whether its lining the under eyes or creating precise eye art, this brush has got your fully covered
CB 15 / PRO – *NEW* Duo Blending Concealer Brush
The ultimate double-ended blending brush that's a lover of both cream & liquid concealers!
CB 16 / PRO – *NEW* Sculpting Contour Brush
This full yet softly angled brush fits effortlessly into the curves of your face, making it perfect for sculpting your cheeks, jawline and forehead with a seamless contoured finish
CB 17 / PRO –*NEW* Deluxe Highlight Brush
Hand-made with the finest synthetic hairs, this tapered brush is the perfect shape and size for applying your favourite (Melanin Glow) highlighters anywhere you want to Glow!
CB 18 / PRO – *NEW* Duo Flat Concealer & Straight Definer Brush
This double ended tool makes pro-artistry easier! The flat oval brush shape & beautifully straight flat brush that allows you to create precise & sharp definition with ease
CB 19 / PRO – *NEW* Lip Brush
This slim yet mighty brush is simply awesome for applying all lip products with absolute precision! Defining your lip shape is now smoothly satisfying with an expert touch!
CB 20 / PRO - *NEW* Deluxe Curved Blending Brush
This ultra-smooth and curved brush is ideal for expert gentle application of all your cream products
CB 21 / PRO – *NEW* Deluxe Finishing Powder Brush
Achieve a natural non-heavy finish to your makeup with this fine high-definition powder brush!
Big Mama Blender 2.0 
Our high-quality latex free sponges are uniquely made with a flat side, to give you extra control when blending and baking products for longer lasting makeup!
….Plus Brush Guards, Ziplock Bag, Disposables pack with spoolies and lip wands & Pocket Mirror