---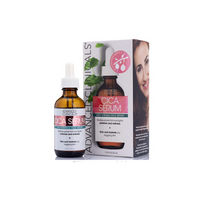 Advanced Clinicals Cica Serum
BeautyMarked Ghana
Main Ingredient: Cica Plant Extract
What to Expect: Visible Wrinkle, Redness and Scarring Reduction
Cica, pronounced "seek-ah", is the nickname of Centella Asiatica, or Tigergrass. The star ingredient of our newest anti-aging serum, Cica is an ancient herb found in the medicine cabinets of Natural Healers for centuries. Scars, wrinkles and redness don't stand a chance thanks to the powerful ant-inflammatory properties of the Cica Plant.
We combine Cica with potent antioxidant Green Tea and Honeysuckle extracts to protect and nourish collagen levels. As a result, you'll see smoother, softer, more even skin with less visible imperfections like wrinkles, scars and spots.
This silky, extra hydrating serum features Glucoshield- a probiotic ferment which actively protects against discoloration and wrinkles. Glucoshield is clinically proven to improve elasticity and firm sagging problem areas. Your skin will soak up an array of benefits with this serum, which is made in USA, free from parabens, sulfates and 100% Vegan. 100% Risk Free Satisfaction Guaranteed, so go ahead a try a few serums!